In today's spotlight I'm joining
in
celebrating the release of
Book 13 in the Cat in the Stacks Mysteries
Charlie Harris and his feline companion Diesel take a bookish vacation but discover that murder never takes a holiday, in this all-new installment of the New York Times bestselling series.
Charlie and Diesel along with Charlie's fiancée, Helen Louise Brady, are heading to Asheville, North Carolina to spend a week at a boutique hotel and participate in a gathering of a mystery reader's club composed of patrons of the Athena Public Library. In addition to seeing the local sights, the members will take turns giving talks on their favorite authors.
The always spry Ducote sisters, friends of the hotel's owners, are helping underwrite the expenses, and they've insisted that Charlie, Helen, and Diesel join them. Anxious to get Helen Louise away from her bistro for a vacation, Charlie readily agrees. While Charlie is looking forward to relaxing with Helen Louise and Diesel, other members of the group have ulterior motives including a long-standing score to settle.
When an intrusive, uninvited guest turns up dead, only one mystery club member with a connection to the deceased appears to have a motive to kill. But could the answer really be that simple? Charlie and Diesel, along with the detecting Ducote sisters, know that every murder plot has an unexpected twist.
Even amateur sleuths need holidays, right? Charlie Harris hasn't much time off since the "Cat in the Stacks" series began, and after twelve books, I thought it was time he had a little vacation, along with Helen Louise Brady and, of course, Diesel. Last summer I spent a week in the Great Smoky Mountains, and one day we drove over into North Carolina all the way to Asheville. I wish I'd had time to stay there more than an afternoon, but it was enough to achieve my main goal: Biltmore, the Vanderbilt estate.
The largest private home ever built in the United States, Biltmore is imposing (though frankly I think the façade isn't all that attractive). Having been there, however, I thought it might be fun to send Charlie, Helen Louise, and Diesel there. Can't you see Diesel walking through Biltmore?
I decided to have the Ducote sisters along for the ride, as well as a few denizens of Athena. What could be more fun than spending a week at a boutique hotel in a historic town like Asheville and discussing everyone's favorite mystery writers? Sounded like great fun to me.
That's how the book started. Charlie and Helen Louise were all set for a relaxing week with some sightseeing thrown in, not to mention talking about books. But Charlie wouldn't be Charlie without a dead body somewhere in the offing. The question was, who was going to die? And why? Would there be multiple murders?
Cat Me If You Can is a variation on the old English country house mystery. I love that type of book, and I hope you'll enjoy this version of one.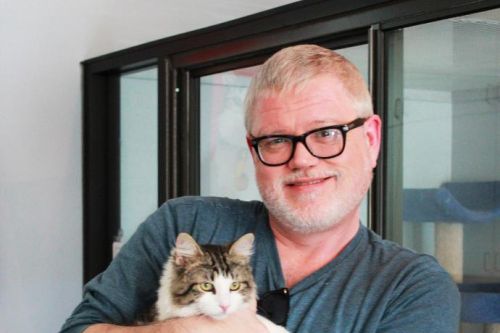 Miranda James / Dean James
"I am a native of Mississippi and recently returned to live in Jackson after spending thirty-three years in Houston, Texas. I have loved mysteries since I discovered Nancy Drew at the age of ten. At twelve or thirteen I wrote a mystery and even submitted it to a publisher -- and promptly received a form rejection letter. That dashed my hopes for a writing career for a while, but I went back to writing mysteries while I was in graduate school in Rice. My first published adult mystery was actually the second one I wrote: CRUEL AS THE GRAVE was published in 2000.
Since then I have published twenty additional mysteries, the latest of which is ARSENIC AND OLD BOOKS, the sixth in the Cat in the Stacks series. In my day-to-day life I am a librarian like Charlie (except my specialty is medical libraries) and I have two cats, neither of whom is a Maine Coon. I love reading and writing mysteries and taking care of two spoiled cats (that's probably redundant--all cats are spoiled because they generally accept no less). I write mysteries to entertain readers and help them relax and get away from the pressures of daily life. That's why I read them myself."